Frequently Asked Questions
To update the firmware of the trainer, you need to use WhiizU pairing to connect to the XPEDO trainer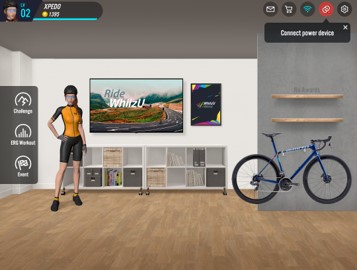 Once your trainer is paired and connected to the WhiizU app, click on the trainer icon to find out the current firmware version of the trainer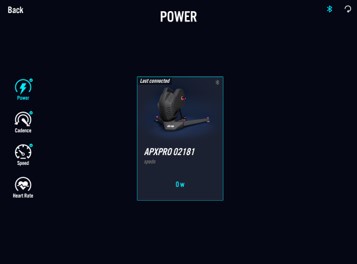 If the update option is not displayed, it means the firmware is already the latest version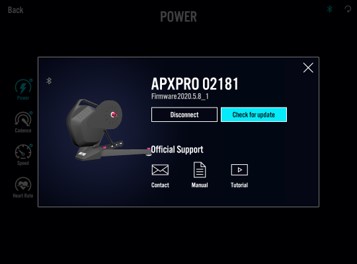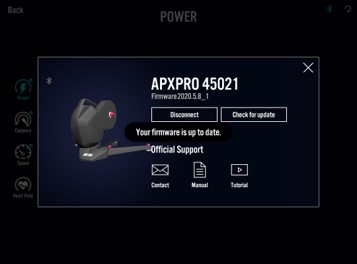 If a newer version is available for update, the system will inform you that there is a new version for you to update.
Click the update button to start the firmware update process.
Refer to the above steps if you can't update or any other technical issues,
Please contact us.
APP
iOS
Android
PC
WhiizU

Requires iOS 10.0 or higher, Compatible with iPhone, iPad (2 GB or more RAM, iPhone 6s or higher)

Requires Android 10.0 or higher, with Snapdragon™ 62 processor or higher, 3 GB RAM at least.
Requires Windows 7 or higher, with Intel Core 2 Duo processor or higher, 4 GB RAM at least.
Zwift
Requires iOS 11.0 and watchOS 3.0 or later. Compatible with iPhone, iPad, and iPod touch.
Requires Android 7.0 or higher.
Windows 7 (64bit) or higher, or macOS 10.10 or higher. You'll want at least an Intel Core 2 Duo processor and 4GB of memory.
Kinomap

Requires iOS 9.0 and watchOS 5.0 or later. Compatible with iPhone, iPad, and iPod touch.
Requires Android 5.0 or higher.
No

Rouvy AR

Requires iOS 11.0 or later. Compatible with iPhone, iPad, and iPod touch. Apple TV.
Requires Android 5.0 or higher.

CPU 2.33Ghz or faster x86-compatible processor or interl Atom 1.6Ghz or faster processor for notebook class devices

OS Windows 10

1 GB of RAM (4GB recommended)

RGT Cycling Mobile

Requires iOS 11.0 or later. Compatible with iPhone, iPad, and iPod touch.
Requires Android 7.0 or higher.
No

RGT Screen
Requires iOS 11.0 or later. Compatible with iPad. Apple TV.
Requires Android 7.0 or higher.
OS Windows 10 version 17763.0 or higher. Architecture x64

DirectX Version 10

Memory 2 GB

Video Memory 1 GB

Processor 64 bit core i5 or better

Graphics Geforce serie 9 or better

FULGAZ
Requires iOS 11.0 or later. Compatible with iPhone, iPad, and iPod touch. Apple TV.
Requires Android 7.0 or higher.
OS Windows 10 version 17763.0 or higher, Windows 10 version 17763.0 or higher, Xbox One

Architecture x64

BKOOL
iOS 10.3.4 or later.
Android 5.0 or higher.
Windows 8.1 Processor

Intel Core 2 Quad CPU Q6600 @ 2.40GHz (4 CPUs) / AMD Phenom 9850 Quad-Core Processor (4 CPUs) @ 2.5GHz

RAM:4GB

Graphics: Intel HD or equivalent

Hard Disk: 2GB

Internet: 20Mbps

The Sufferfest
Requires iOS 12.2 or later. Compatible with iPhone, iPad, and iPod touch.
No
Windows 8.1 or Higher

Intel Core2 Duo or 1.3GHZ processor

2GB of Memory

Xert
Requires iOS 9.3 or later. Compatible with iPhone, iPad and iPod touch.
Android 4.4 or higher
No